Simply Dan (Steely Dan tribute)
Simply Dan is a 12 piece band playing songs from the entire Steely Dan back catalogue. Made up of a 4 piece horn section, 2 guitars, 3 vocalists, keyboards and a bass and drums rhythm section, Simply Dan produce a wonderful tribute to the genius of Steely Dan with the right balance between being respectful to the original recordings and firmly putting their own stamp on the material.
Having promoted the band's first ever ticketed concert in October 2017  I am delighted to be co-promoting some of their upcoming shows.
For more information on the band please see their website simplydan.co.uk or their Facebook page: simplydanlondon

SIMPLY US + THEM  (PINK FLOYD TRIBUTE)
With many of their members working as session musicians in London and the south east and performing with a diverse mix of artists nationally and worldwide, Simply Us + Them are an incredible band who faithfully capture the sound of Pink Floyd. The band was started in 2022 by Mark Roadnight with the idea faithfully recreating the sounds of Pink Floyd.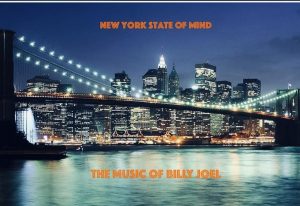 NEW YORK STATE OF MIND: THE MUSIC OF BILLY JOEL
A long-time bucket list item for Front Man and piano player Tom Morton, and nurtured to fruition by guitarist and seasoned band leader Mark Roadnight, this show shines a spotlight on the  catalogue of one of the most acclaimed American artists and songwriters of the 20th Century – perhaps of all time. The set features songs from breakthrough albumd "Piano Man" and "The Stranger" through the 70's, 80's and 90's when Joel's status was firmly established as a true American icon. The band members are all session musicians on the London recording scene and have toured all around the world.
Band Line-up:
Tom Morton – Vocals and piano
Nichola Pope – saxes, keys and backing vocals
David McLeod – bass guitar
James Smith – drums
Mark Roadnight – guitars and backing vocals