OTHER VENUES
Since my first concert promotion in Guernsey in 1978, over the years I have promoted, either on a sole or joint basis, at a variety of different venues either for a number of years or just as one-offs.
ST. JOHN'S CHURCH, FARNCOMBE
For many people I am most associated with the 15 years I spent promoting at St. John's Church in Farncombe – a working church built over 170 years ago and extensively refurbished in 2012. The Farncombe Music Club concerts ran from June 2007 until November 2022 and performers included Big Country, The Blow Monkeys, Caravan, China Crisis, The Christians, Beverley Craven, Kiki Dee & Carmelo Luggeri, Andy Fairweather Low & The Low Riders, Focus, Julia Fordham, Steve Howe, The Icicle Works, John Lees' Barclay James Harvest, Kokomo, Hazel O'Connor, Nine Below Zero, Nerina Pallot, Roachford, Tom Russell, Vonda Shepard, Soft Machine, Stackridge, Glenn Tilbrook, T'Pau and Judie Tzuke as well as tribute acts including Fleetwood Bac, Logicaltramp, Oye Santana, Simply Dan, The Story of Guitar Heroes and The Vox Beatles.

During those 15 years over £100,000 was generated for different, mainly local, charities and to support overseas development charities and Disasters Emergency Committee appeals.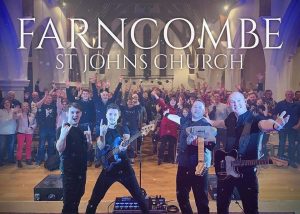 OTHER VENUES AND SOME OF THE PERFORMERS
Aldershot – West End Centre: StillMarillion, The Watch.
Cranleigh – Cranleigh Arts Centre: Martyn Joseph, Waking the Witch, Eve Selis. 
Farncombe – Farncombe Cavern: Julie Felix, Henry Priestman, Michael Weston King, Brooks Williams, Edwina Hayes, Lucy Ward, Sean Taylor, Steve Tilston, After The Fire, O'Hooley & Tidow, Hungrytown, Rod Picott & Amanda Shires, Malcolm Holcombe. 
Farncombe – Hector's on The Wey: Laura Cortese & The Dance Cards, Hat Fitz & Cara, Hungrytown, Jason McNiff. 
Farnham – Farnham Maltings: John Lees' Barclay James Harvest, Renaissance, G2 Definitive Genesis, Lisa Redford, Desperado (Eagles tribute). 
Guildford – Electric Theatre: Simply Dan, Simply Us + Them.
Weybridge – St. James Church: Ben Waters, Keith James, Genesis Legacy, The KT Bush Band, The Sounds of Simon, Marrakesh Express, Any Colour You Like. 
Windlesham – Windlesham Club & Theatre: Beverley Craven, China Crisis, Hazel O'Connor, Judie Tzuke, Kiki Dee & Carmelo Luggeri, King King, T'Pau, Glen Tilbrook, After the Fire, The Korgis, Stackridge, Black, Los Pacaminos, Gordon Giltrap, Any Trouble, Stefan Grossman, Charlie Dore. 
Worcester – Huntingdon Hall: Karnataka, Bowiesque, DS:UK, StillMarillion. 
as well as Chichester – Chichester Inn, Godalming – Wilfrid Noyce Community Centre and The Boileroom, Norwich – Arts Centre, Oxted – Barn Theatre, Shipton Bellinger – Village Hall and others.