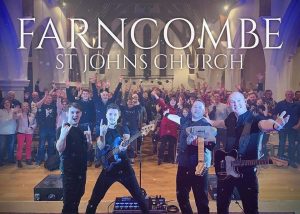 St. John's Church, St. John's Street, Farncombe, Godalming, Surrey GU7 3EJ
All concerts start at 7.45pm (unless stated otherwise) with doors / cash bar open from 7.00pm. Most shows finish by 10.30pm. Seating is unreserved but some seating may be allocated at the Promoter's sole discretion for larger bookings or other reasons. 
For full listings and more details see Events page on Farncombe Music Club's Facebook page.
UPCOMING SHOWS
Friday 30th September 2022 – ON THE RUN (Pink Floyd tribute) – charity fundraising concert for CAFOD and Trinity Trust Team. TICKETS: WeGotTickets @ £18 + £1.80 bkg fee / £22 on door, if available. The bar is CASH ONLY (cash machine at the Co-op opposite the church). 
Friday 21st October 2022 – THE ALTER EAGLES (Eagles tribute) TICKETS: WeGotTickets @ £18 + £1.80 bkg fee / £22 on door, if available. 
Friday 18th November 2022 – OYE SANTANA (Santana tribute) TICKETS: WeGotTickets @ £20 + £2 bkg fee / £25 on door, if available.  
TICKETS
ADVANCE TICKETS are only available online from WeGotTickets  (subject to 10% booking fee) – these tickets are usually available for purchase until 12.00 noon on the day of the show, unless sold out beforehand of course! This is a ticketless system and names will be checked off at the venue from when doors open. 
Once purchased, we are unable to offer refunds or exchanges unless an event is cancelled. No claims for refunds or exchanges will be accepted after the show has taken place. 
For further information on any of the concerts please call Julian on 01483 421520 or e-mail julianlewrymusic@aol.com
THE VENUE
St. John's Church – Built over 170 years ago, this working church was extensively refurbished in 2012 with new seating, flooring and lighting. It has wonderful acoustics for all types of music as well as a unique atmosphere – described by some as Surrey's own Union Chapel. Concerts are either held in the Church or the attached Church Room which provides a more intimate space and also has excellent acoustics.
Disabled access is excellent with no steps into either the Church or Church Room.  There is a disabled toilet. We can allocate wheelchair spaces (advance booking essential). Age Restriction We are an all ages venue however all under 18's must be accompanied by an adult.
This is a working church and so all are expected to respect it's sacred nature. Being a music led venue, it isn't suitable for large, or even small groups who wish to talk and have a party whilst the musicians are performing. Please respect the musicians and our fellow guests. Any unacceptable behaviour will be dealt with as appropriate and may involve us asking people to leave.  
NB Some Farncombe Music Club concerts are occasionally held at Hector's On The Wey at Catteshall Wharf, GU7 1NH. 
FINDING US
Situated in St. John's Street right in the centre of the village just opposite the Co-op store, there are PUBLIC CAR PARKS in Station Road (GU7 3NF) , North Street (GU7 3HE) and on Meadrow (GU7 3HY) – all of which are within 5 minutes walk of the venue (charges may apply). There is  also some on street parking nearby. Please do not park in PRIVATE CAR PARKS as YOU RISK BEING CLAMPED AND/OR FINED. 
Farncombe railway station is just 2 minutes walk from the venue. For rail travellers, Farncombe is on the London Waterloo – Portsmouth mainline. Trains are regular and journey times are London – 40 minutes and Portsmouth – 1 hour. All concerts finish before the final trains.
REFRESHMENTS
Cash bar with a selection of beers, wine, hot and cold drinks, chocolate bars and crisps available,  No alcohol is allowed to be taken outside the building.  Fairtrade goods are used wherever possible. To enable us to comply with the Premises Licence and the four licensing objectives alcohol cannot be brought into the venue. The only alcoholic drinks which are permitted to be consumed are those which under the conditions of the Premises Licence we are licensed to sell at the bar i.e. beer and wine – no spirits.  Bar sales are a vital part for the economic viability of the concerts with some of the profits contributing towards our charity fundraising. 
For those arriving in the area early, there are a range of eating and drinking options nearby including the Farncombe Tandoori restaurant and several pubs such as The Cricketers, The Leathern Bottle and The Three Lions as well as various take-aways.
GOOD CAUSES
Since these concerts started in June 2007, over £75,000 has been generated for different, mainly local, charities and to support overseas development charities and Disasters Emergency Committee appeals. Before the first Covid-19 lockdown in March 2020, the previous 5 years alone saw an average of over £8,000 p.a. being raised for charity.
PAST PERFORMERS
St. John's Church has played host to original acts such as Big Country, The Blow Monkeys, Caravan, China Crisis, The Christians, Beverley Craven, Kiki Dee & Carmelo Luggeri, Andy Fairweather Low & The Low Riders, Focus, Julia Fordham, Steve Howe, The Icicle Works, John Lees' Barclay James Harvest, Kokomo, Hazel O'Connor, Nine Below Zero, Nerina Pallot, Roachford, Tom Russell, Vonda Shepard, Soft Machine, Stackridge, Glenn Tilbrook, T'Pau and Judie Tzuke. We occasionally put on tribute acts  which have included Any Colour You Like (Pink Floyd), Fleetwood Bac, Logicaltramp, Oye Santana, Simply Dan (Steely Dan) and The Vox Beatles.